Christian Parenting: 52 Daily Devotionals for Parents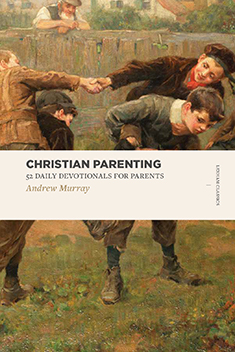 Overview
Andrew Murray's Christian Parenting, originally published as The Children for Christ, contains 52 readings—one for each week of the year—on the subject of parental duty. Each lesson includes passage from the Bible and Murray's thoughts on how the passage illuminates the important role of parenting. The lessons all conclude with a short prayer. Christian Parenting is a timeless resource for parents who want to learn more about strengthening their Christian household.
Lexham Classics
Lexham Classics is a series of beautifully typeset new editions of classic works. Each book has been carefully transcribed from the original texts, ensuring an accurate representation of the writing as the author intended it to be. Learn more about Lexham Classics.
Product Details
Title: Christian Parenting: 52 Daily Devotionals for Parents
Author: Andrew Murray
Series: Lexham Classics
Publisher: Lexham Press
Publication Date: 2017
Pages: 320
Format: Paperback
Trim Size: 6x9
ISBN: 9781577997856
About Andrew Murray
Andrew Murray (1828–1917) was a South African pastor, teacher, and writer. Educated in Aberdeen, Scotland and at the University of Utrecht in the Netherlands, Murray was later ordained in the Dutch Reformed Church and returned to live and work in South Africa. Murray was very focused on missions, considering it to be "the chief end of the church." He cofounded the South African General Mission and was also the author of over 240 books.
Reviews
What other people are saying about Christian Parenting: 52 Daily Devotionals for Parents.