Heretics and Orthodoxy: Two Volumes in One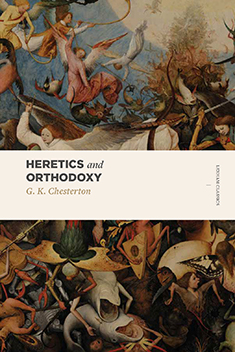 Overview
Two of G. K. Chesterton's most important and well-known works are contained in this volume: Heretics, and Orthodoxy.
In Heretics, Chesterton addresses the intellectual movements of his time that he considered most prominent and destructive. Chesterton confronts relativism, individualism, neo-paganism, and other trends of the modern period, paying special attention to the artists and intellectual elite of his time. Orthodoxy, a classic that is part memoir, part apologetic. It exhibits Chesterton at his finest—a combination of literary wit, theological acumen, and pointed cultural critique. The two works complement each other perfectly, providing an accessible entry point to the battleground of truth and falsehood.
Lexham Classics
Lexham Classics is a series of beautifully typeset new editions of classic works. Each book has been carefully transcribed from the original texts, ensuring an accurate representation of the writing as the author intended it to be. Learn more about Lexham Classics.
Product Details
Title: Heretics and Orthodoxy: Two Volumes in One
Author: G. K. Chesterton
Series: Lexham Classics
Publisher: Lexham Press
Publication Date: 2017
Pages: 326
Format: Paperback
Trim Size: 6x9
ISBN: 9781577997894
About G. K. Chesterton
G. K. Chesterton (1874–1936) was an English author of various works, including Orthodoxy. He worked in publishing until 1902, when he began writing regularly. Chesterton's weekly columns appeared for decades in the Daily News and The Illustrated London News. He wrote more than 80 books, hundreds of poems, 200 short stories, and 4,000 essays. Chesterton's apologetic works have influenced generations of Christian belief and were notably influential in C.S. Lewis's conversion to Christianity.
Reviews
What other people are saying about Heretics and Orthodoxy: Two Volumes in One.