The Truth, Inspiration, and Authority of Scripture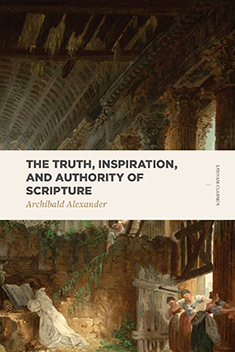 Overview
This book, originally published in 1836 as Evidences of the Authenticity, Inspiration, and Canonical Authority of Holy Scripture, contains Archibald Alexander's defense of God's role in the inspiration of Scripture. Alexander devotes time to defending the truth of Scripture, the veracity of miracles, the fulfillment of prophecy, and the credibility of the Gospels, firmly supporting the view that the revelation of God in the Bible is neither improbable nor unreasonable.
Lexham Classics
Lexham Classics is a series of beautifully typeset new editions of classic works. Each book has been carefully transcribed from the original texts, ensuring an accurate representation of the writing as the author intended it to be. Learn more about Lexham Classics.
Product Details
Title: The Truth, Inspiration, and Authority of Scripture
Author: Archibald Alexander
Series: Lexham Classics
Publisher: Lexham Press
Publication Date: 2017
Pages: 278
Format: Paperback
Trim Size: 6x9
ISBN: 9781577997870
About Archibald Alexander
Archibald Alexander (1772–1851) was an American educator and theologian. He was President of Hampton-Sydney College (Virginia) and later became pastor of Pine Street Presbyterian Church in Philadelphia. However, he is most well-known for founding Princeton Theological Seminary, where he served as principal and professor until his death in 1851. Today he is considered the first of the great Princeton theologians.
Reviews
What other people are saying about The Truth, Inspiration, and Authority of Scripture.