Holy Labor: How Childbirth Shapes a Woman's Soul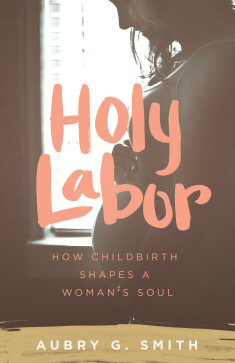 A Biblical View of Childbirth
Is the pain of childbirth a necessary evil? Should mothers-to-be feel anxious or scared about having children and starting a family?
Christians follow a God who throughout Scripture claims to understand the experience of giving birth—both to believers and to a whole new creation. So shouldn't Christians have a robust view of how the birth process shapes women and shows us the heart of our Creator?
In Holy Labor: How Childbirth Shapes a Woman's Soul, Aubry G. Smith draws on her own experiences of giving birth and motherhood along with a litany of biblical examples to illustrate how birth can teach us—expectant mothers, mothers, and those who know them—what it means to be created in God's image. Along the way, she unpacks the many conflicting assumptions held by Christians about the mess and beauty of birth and how it's portrayed in Scripture. She shows soon-to-be mothers not only how to think biblically about birth, but also walks them through how to put these ideas into practice in their own lives. Smith encourages all readers to see God and the gospel through the miracle of birth.
Praise for Holy Labor
Nothing has shaped me and my view of God like the experiences of pregnancy, loss, birth, and raising children. Childbirth is more than a metaphor, it's an altar. With this book, Aubry G. Smith has reclaimed childbirth as a profoundly theological and spiritual partnership with our Creator. Holy Labor will set women free, not only to experience an empowered and Christ-centred childbirth, but to encounter the living God in that experience.
—Sarah Bessey, author of Jesus Feminist and Out of Sorts: Making Peace with an Evolving Faith
Holy Labor is a much-needed positive Christian account of childbirth. Aubry Smith's appreciation that "we understand God better when we understand childbirth better" is spot on. Holy Labor is a thoughtful guide to approaching birth with wisdom, grace, and yes, even joy! A must-read for expectant and experienced mothers, as well as anyone seeking a deeper understanding for how the love of God shows up in the meaningful labor of childbirth.
—Courtney B. Ellis, pastor for spiritual formation at Presbyterian Church of the Master; writer at CourtneyBEllis.com
As an experienced childbirth educator and doula, Aubry G. Smith has provided a much-needed book on the topic of childbirth from a Christian perspective. She does so in a way that is both biblically and theologically anchored while being extremely practical. Her personal vignettes lace through the book and accentuate vital spiritual practices that deepen one's faith. I cannot wait to refer this book to the expectant moms I know!
—Diane J. Chandler, PhD, associate professor, Regent University School of Divinity; author, Christian Spiritual Formation: An Integrative Approach to Personal and Relational Wholeness
Contents
A Biblical Perspective of Childbirth
Eve's Curse and Our Narrative of God
Image-Bearers of the God Who Gives Birth
The Glory and the Gory in the Incarnation
New Birth into the Kingdom of God
Pain, Suffering, and Resurrection in Childbirth
God's Providence over Pregnancy and Childbirth
Product Details
Title: Holy Labor: How Childbirth Shapes a Woman's Soul
Author: Aubry G. Smith
Publisher: Kirkdale Press
Publication Date: 2015
Pages: 208
Format: Logos Digital, Paperback
Trim Size: 5.5x8.5
ISBN: 9781577997382
About Aubry G. Smith
Aubry G. Smith is a writer, childbirth educator, and doula. An Arkansas native, she now lives in the Middle East with her husband and three children. She is also a regular contributor to Faithlife's Bible Study Magazine. Aubry writes, teaches, and speaks on Christ-centered pregnancy, childbirth, and motherhood, and how these can be profound contributors to spiritual formation when combined with thoughtful intention and spiritual disciplines.
Reviews
What other people are saying about Holy Labor: How Childbirth Shapes a Woman's Soul.