Lexham Press Original Languages Suite (15 vols.)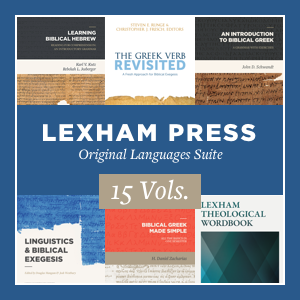 When you purchase this collection, you will immediately receive 12 volumes. The three remaining volumes—Learning Biblical Hebrew, Learning Biblical Hebrew: Workbook, and Biblical Greek Made Simple—will download automatically once they are completed.
Overview
In-depth study of God's Word requires engaging with it as it was written. The Lexham Press Original Languages Suite gives you all the tools you need to learn and study biblical Greek and Hebrew. Four different introductory grammars—three in Greek and one in Hebrew—present all the basics for learning these biblical languages. Each of them contain practical lessons and exercises to help students grasp the fundamentals of language learning. The Original Languages Suite contains a number of supplemental resources as well, helping you take your studies to the next level.
Product Details
Title: Lexham Press Original Languages Suite (15 vols.)
Publisher: Lexham Press
Volumes: 15
Expand all
|
Collapse all
Lexham Theological Wordbook
Bible Word Studies: A How-to Guide

Lexham Methods Series: Linguistics & Biblical Exegesis

Lexham Methods Series: Textual Criticism of the Bible
The Greek New Testament: SBL Edition (SBL)

Apparatus for the Greek New Testament: SBL Edition

The Greek New Testament: SBL Edition
An Introduction to Biblical Greek: A Grammar with Exercises

Biblical Greek Made Simple: All the Basics in One Semester

Discourse Grammar of the Greek New Testament: A Practical Introduction for Teaching and Exegesis

The Greek Verb Revisited: A Fresh Approach for Biblical Exegesis
The Lexham English Septuagint (LES)

Only some resources from this collection are included

The Lexham English Septuagint
Lexham Hebrew Bible with Morphology
Learning Biblical Hebrew Workbook: A Graded Reader with Exercises

Learning Biblical Hebrew: Reading for Comprehension: An Introductory Grammar