Shining a Light on the Powers of Darkness.
What does the Bible say about demons? Are they real?

What people believed about evil spiritual forces in biblical times was very different from today—an ancient worldview missing in modern analysis.
Order now
---
"Michael Heiser has done a great service to all who want to understand the biblical theology of demons, the supernatural powers in rebellion against God."
"Get ready for many lightbulb moments, and for a whole new appreciation of biblical texts you thought you already understood. This book is highly recommended!"
"Dr. Michael Heiser is a master guide into the unseen realm of angels and demons. His newest book will challenge you to rethink many of your common assumptions."
"Is it right to say that you love a book about demons? If so, I love this book about demons! Dr. Michael Heiser brilliantly unveils more of the unseen realm."
---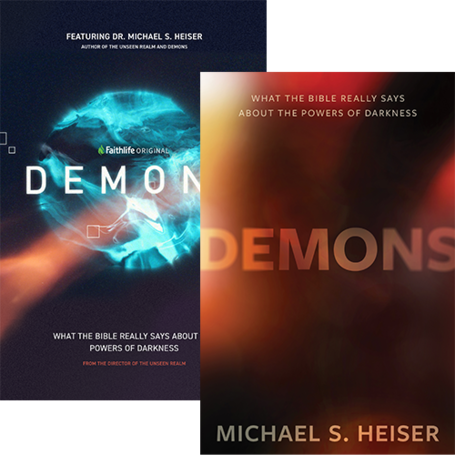 Demons Book + Movie Bundle
Enjoy both book and movie in this special bundle for just $21.99.
Order both
The book
In Demons, Michael Heiser debunks popular presuppositions about the true powers of darkness. Rather than speculation, it's grounded in what people of both the Old and New Testament eras believed about evil forces and what the Bible actually says.
Learn more
The movie
In the Demons movie, Michael Heiser addressees malevolent entities, supernatural rebellion, spiritual warfare—powers of darkness that are very, very real.
Watch now
---
Michael Heiser (PhD, University of Wisconsin-Madison) is scholar-in-residence at Faithlife.
An expert in Bible and ancient Semitic languages, he is the author of several books including Reversing Hermon and the best-seller The Unseen Realm.
His varied academic background enables him to operate in the realm of critical scholarship and the wider Christian community. His experience in teaching at the undergraduate level and writing for the layperson both directly contribute to the goal of adapting scholarly tools for nonspecialists.
Learn more