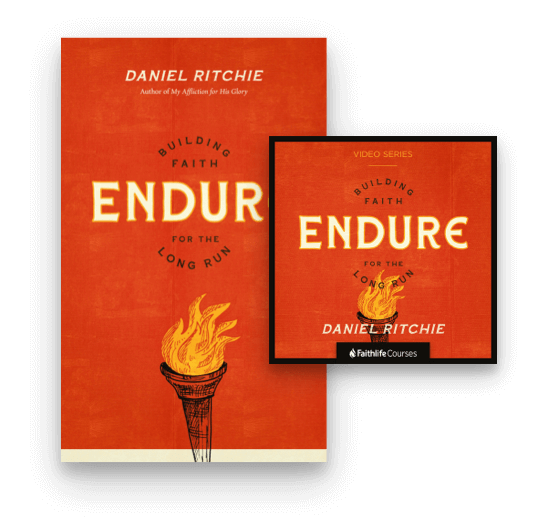 New from Daniel Ritchie
Discover the key to a faith that reaches the finish line
Experience Endure to the fullest. Grab the book and video series bundle.
Get both
The Book
How to run and not grow weary
Following Jesus is like running a race. But it's a marathon, not a sprint. So how do we run the race with endurance?
In Endure, you'll find direction and encouragement to trust God in every year, every day, and every minute. Learn how specific attitudes and habits will build your faith and connect you to God's love, as well as why seemingly mundane choices may be the most important.
Get the book
The Video Series
Dive deeper into building a faith that lasts
In the companion video series to Endure, Daniel Ritchie explores how God's people run well. Each lesson concludes with reflection questions to facilitate group discussion or to help you think through the teaching on your own.
Get the video series
"A helpful guide on how to cultivate faith that will endure until the end of our days."
"This book will point you to the one who promises to make your yoke light. Read this book and find Jesus on every page."
"Daniel's book is as powerful and insightful as his testimony. I can assure you that you've never met another Christian like Daniel."
"This is a book that will bless and encourage many."
"If you want a practical guide to getting through tough times, written by someone who knows what he is talking about, this book is for you."
"Buy this book, read this book, and I believe it will help you go a long way in enduring through the end to the glory of God."
---
More from Daniel Ritchie
See Your Struggles through Christ's Eyes, Not Your Circumstances
Adversity can cause us profound levels of doubt, especially when we compare ourselves to others. In the face of affliction and suffering, sometimes it's hard enough just to get through the day, let alone explore bigger topics like purpose, love, or faith.
In My Affliction for His Glory, you can learn to tackle life's challenges with grace and creativity—let him show you how to see your life through Christ's eyes.
Learn more
"My Affliction for His Glory is a meaningful and stirring reflection on Christian faithfulness in the midst of life's trials."
"In these pages, you will find the gospel richly woven through the many inspiring, heartbreaking, and sometimes hilarious stories of Daniel's journey."
---

Daniel Ritchie
is a speaker and writer from North Carolina and has 10 years of experience in student ministry. He and his wife, Heather, have two children.
---