Jesus Wins: The Good News of the End Times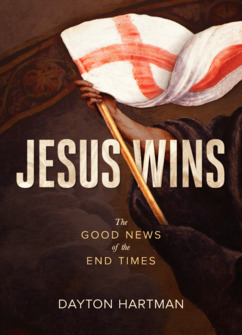 Reclaiming our common hope
Too often discussions about the End Times are fraught with wild speculation or discord. But a biblical view of eschatology places Jesus' return and victory at the center. All Christians hold this hope in common.
In Jesus Wins, Dayton Hartman focuses on this common ground to reveal why the way we think about the End Times matters. Christian eschatology should be rooted in biblical orthodoxy to inspire hope and greater faithfulness in the present age. That's the point of eschatology after all! Drawing from his own ministry experience, Hartman testifies to the unifying power of Jesus' victory.
Product Details
Title: Jesus Wins: The Good News of the End Times
Author: Dayton Hartman
Publisher: Lexham Press
Publication Date: 2019
Pages: 144
Format: Logos Digital, Paperback
Trim Size: 5x7
ISBN: 9781683591306
About Dayton Hartman
Dayton Hartman is lead pastor at Redeemer Church in Rocky Mount, North Carolina. He is an adjunct professor at Southeastern Baptist Theological Seminary and Columbia International University. He is the author of Church History for Modern Ministry and Lies Pastors Believe.
Reviews
What other people are saying about Jesus Wins: The Good News of the End Times.