Preaching Points: 55 Tips for Improving Your Pulpit Ministry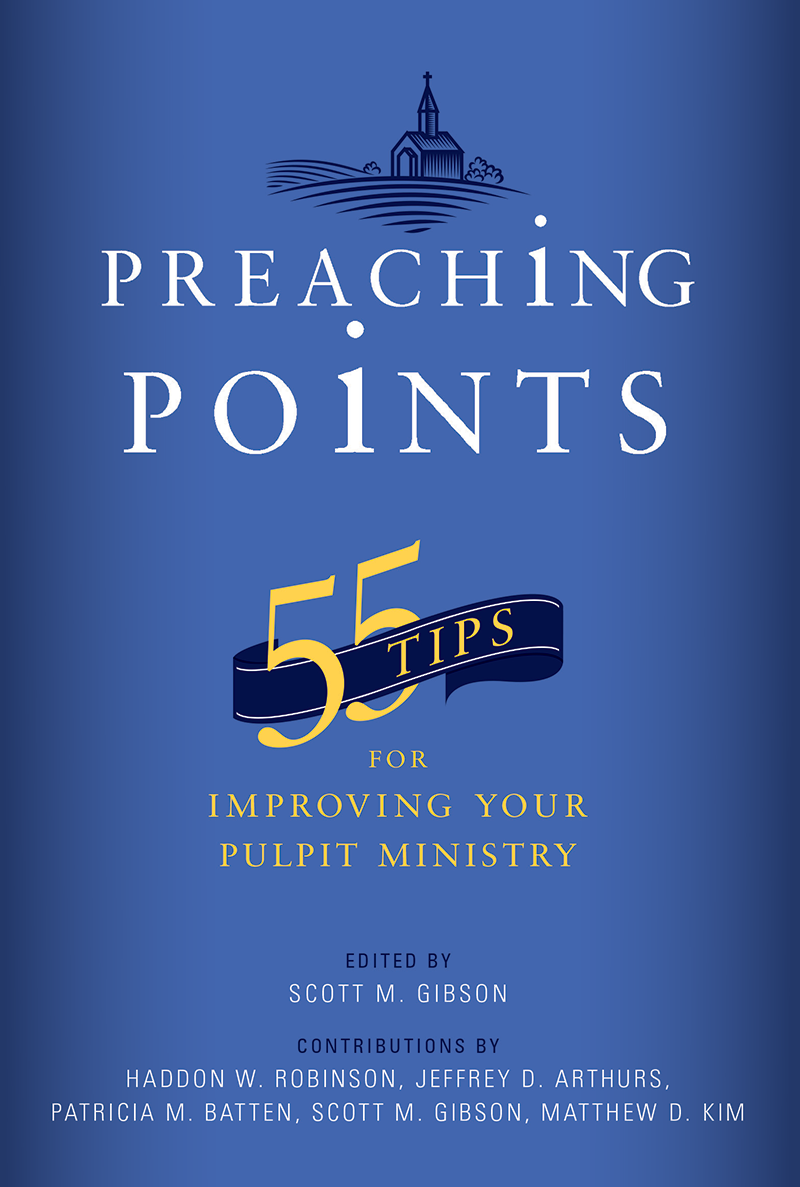 Overview
The eleventh commandment for preachers is "Be clear!" This book offers 55 workable guidelines on how this exhortation can be heeded to help with communication and preaching skills.
This volume is a collection of some of the best of the hundreds of Preaching Points that the Haddon W. Robinson Center for Preaching at Gordon-Conwell Theological Seminary has produced. Preaching Points is a weekly podcast that features conversations on preaching by Haddon Robinson, Jeffrey Arthurs, Matthew Kim, and Patricia Batten—all members of the preaching faculty of Gordon-Conwell Theological Seminary, South Hamilton campus.
This book offers diverse topics based upon on how they relate to preaching—the preacher's spiritual life, the way to preach, the way to live life as preachers, their role as a preacher, considerations for listeners, and so forth.
Contents
Introduction
Preach the Big Idea
Go to the Bible to Hear God Speak
Soak Yourself in the Text
Being Biblical and Contemporary Is the Art of Christian Communication
Speaking Truth to People Takes Moral Courage
We Need Scholarly Evangelists and Evangelistic Scholars
Sermon Preparation Is Twenty Hours of Prayer
Match the Mood of the Text
Give Your Listeners the Opportunity to Respond to the Message
Make Preaching a Priority
Guard Your Sermon Preparation Time
Preach the Principle
Drain the Liquid
Interrupt Your Preaching Plan
Don't Just Get Feedback, Get Feedforward
A Wise Leader Works Exercise into His or Her Schedule
Lay Hold of the Bible Until the Bible Lays Hold of You
Use Your Introduction to Set Up the Body of the Message
The Essence of Good Preaching is Unity, Order, and Progress
Diversify Your Illustrations
Conclusions Should Come to a Burning Focus
It Doesn't All Depend on You
Preach as a Dying Man to Dying Men
Be Yourself When You Preach
Mobilize Your Language and Send It Into Battle
The Better You Know Yourself, the Better You Can Serve God in the Situation in Which God Has Placed You
Feed My Lambs, Not Feed My Giraffes
Preach to the Outer Edges
In Our Preaching, Less Is More
Remember the ERP Factor
Preach "We" More Than "You"
Study Your Listeners
Paper Is a Poor Conductor of Heat
Effective Preachers Exegete the Bible and Their People
Observant Preachers Make Insightful Preachers
Adapt to Genderlects
Preach to One Person at a Time
People-Pleasing Puts the Pulpit in Peril
Preach to Those You Want to Come
Take a Survey of Who's Listening
Gentleness Isn't for Wimps
Preach about Money
We Need Reminders
Good Preachers Own Wastebaskets and Use Them
You Need Ten "'Atta Boys" for Every One "You Jerk"
Go to the Balcony
Praise Your Listeners Before Correcting Them
Give Your Listeners Verse Numbers
Pastors are Soul-Watchers
Preachers Can Create a Culture
Strengthen Yourself in the Lord
The Disease of Modern Preaching Is Its Search After Popularity
Guest Preaching Doesn't Have to Be a Guessing Game
Pastors are Preachers and Preachers are Pastors
A Crown Awaits Elders Who Lead Well
Product Details
Title: Preaching Points: 55 Tips for Improving Your Pulpit Ministry
Editor: Scott M. Gibson
Contributors: Haddon W. Robinson, Jeffrey D. Arthurs, Patricia M. Batten, and Matthew D. Kim
Publisher: Lexham Press
Publication Date: 2016
Pages: 136
Format: Logos Digital, Paperback
Trim Size: 5.25x7.75
ISBN: 9781683592082
About Scott M. Gibson
Scott M. Gibson (D.Phil., University of Oxford) is The Haddon W. Robinson Professor of Preaching; Director of the Haddon W. Robinson Center for Preaching; Director of Th.M. Program in Preaching; and Director of the A.J. Gordon Guild at Gordon-Conwell Theological Seminary.
Reviews
What other people are saying about Preaching Points: 55 Tips for Improving Your Pulpit Ministry.