God's Super-Apostles: Encountering the Worldwide Prophets and Apostles Movement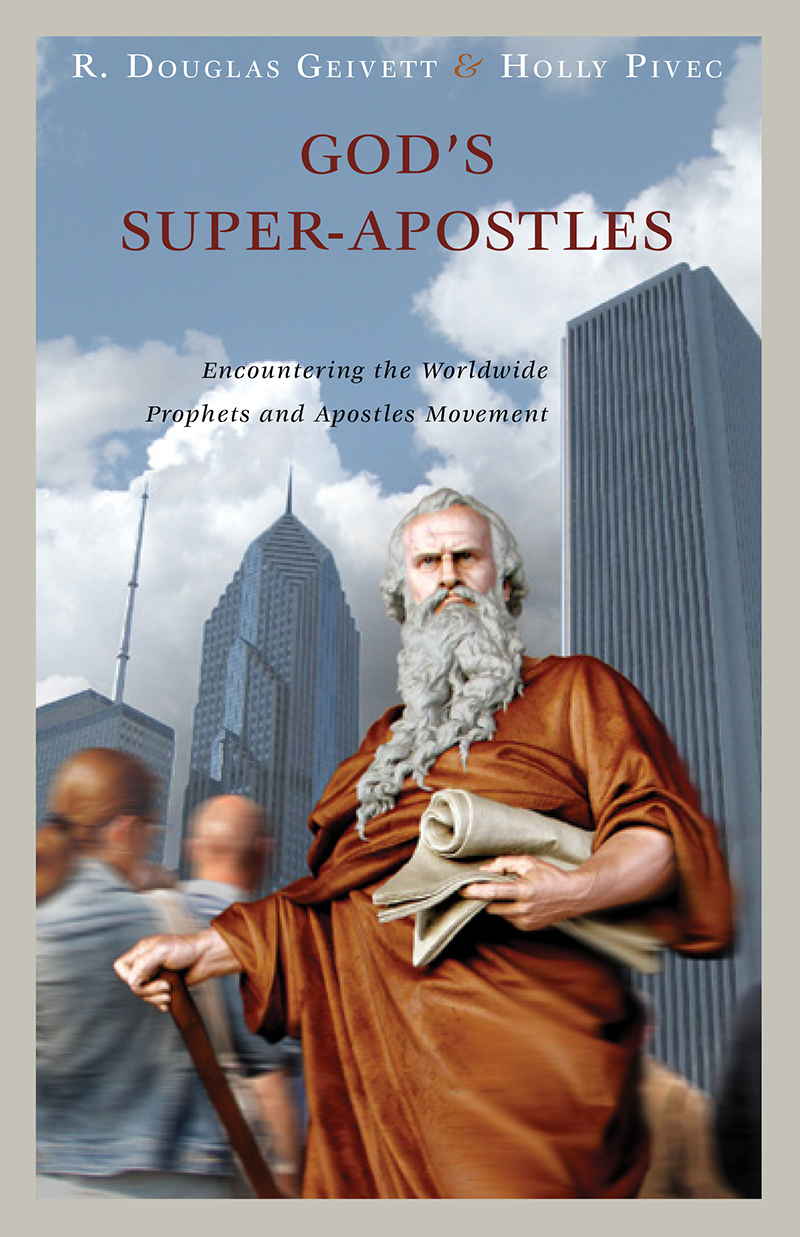 Overview
A new religious movement—led by apostles and prophets—has confused people, divided churches, and strained families as people are forced to make painful choices between those they love and what they believe to be the truth of God's Word. This global movement is known as the New Apostolic Reformation (NAR).
God's Super-Apostles provides a concise entry-level overview of the key teachings and practices of the New Apostolic Reformation (NAR) movement. This is a key resource in grasping the significance of this global, confusing, and controversial movement.
Praise for God's Super-Apostles
Given the explosion of the apostolic movements, God's Super-Apostles represents a concise and valuable survey of what is happening around the globe. Geivett and Pivec provide insightful biblical and historical analyses, which are useful for those wanting to understand these sometimes bewildering movements. Especially beneficial are the distinctions the authors make between the teachings of the historic Pentecostal churches and the more recent New Apostolic Reformation views of such leaders as C. Peter Wagner and others.
—Vinson Synan, Dean Emeritus, Regent University School of Divinity
I thank Geivett and Pivec for this book on the New Apostolic Reformation. They will be praised by some and vilified by others for writing it, but one will not, or should not, deny that they have done their work in a careful and professional manner. Here is a plea to compare claims with Scripture in a civil manner, a practice I whole heartedly commend for all Christians regardless of their theological positions. The apostle Paul commended the Bereans for checking to see if what he was teaching complemented or contradicted the Scripture. If the apostle to the Gentiles commended this action from his hearers in the first century, one would hope that leaders of the NAR movement would see this as a biblical and prudent response to their message in the twenty-first century.
—Karl I. Payne, Pastor of Leadership Development and Discipleship Training, Antioch Bible Church, Redmond, Washington; Chaplain, Seattle Seahawks
If you are looking for a biblically balanced, hermeneutically sound, enlightening, logical, clear, and spiritually and intellectually enriching treatment of the New Apostolic Reformation, contemporary apostles and prophets, their teachings, and the confusions surrounding these, then God's Super-Apostles is a must read. It is relevant and much needed globally.
—Sudhakar Mondithoka, Director of Hyderabad Institute of Theology and Apologetics (India)
Contents
What Is the New Apostolic Reformation?
NAR Apostles: The Generals
Apostles in the Bible: A Close Look
NAR Apostles vs. Apostles in the Bible
NAR Prophets: The Secret Intelligence Agents
Prophets in the Bible: A Close Look
NAR Prophets vs. the Prophets in the Bible
Strategic-Level Spiritual Warfare
What the Bible Really Teaches About Spiritual Warfare
Unifying the Forces through Apostolic Unity
A Miracle-Working Army
What the Bible Really Teaches About Miracles
Product Details
Title: A New Apostolic Reformation? A Biblical Response to a Worldwide Movement
Authors: R. Douglas Geivett and Holly Pivec
Publisher: Lexham Press
Publication Date: 2014
Pages: 176
Format: Logos Digital, Paperback
Trim Size: 5.5x8.5
ISBN: 9781683591726
About the Authors
R. Douglas Geivett is Professor of Philosophy in Talbot School of Theology at Biola University. He is the author of Evil and the Evidence for God, and coeditor of four books: Contemporary Perspectives on Religious Epistemology; In Defense of Miracles; Faith, Film and Philosophy; and Being Good: Christian Virtues for Everyday Life.
Holly Pivec holds a master's degree in Christian apologetics from Biola University. She is an experienced journalist and researcher, having served as a newspaper reporter, a contributing writer to the Christian Research Journal, and as the University Editor at Biola University for nearly 10 years as well as the managing editor of the award-winning Biola Magazine.
Reviews
What other people are saying about God's Super-Apostles: Encountering the Worldwide Prophets and Apostles Movement.